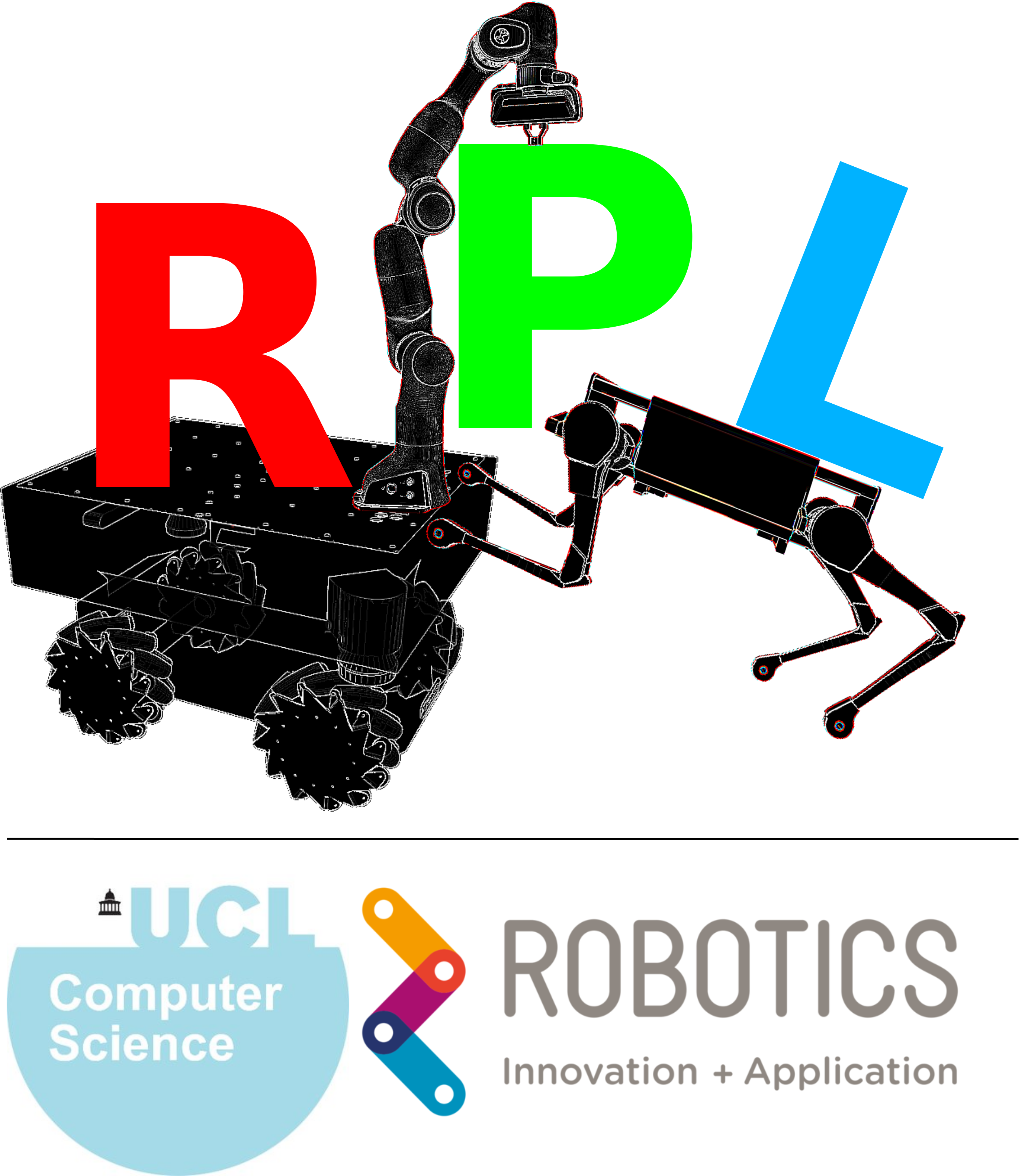 News
The RPL group received DASA funds to work on Teleoperative Legged Manipulator challenge (PI: Chengxu Zhou (Leeds), Co-I: Dimitrios Kanoulas (UCL).

The RPL group received the UCL-Osaka University Strategic Partner Funds to work on Robot Teleoperation (PI: Dimitrios Kanoulas (UCL), Co-I: Weiwei Wan (Osaka Univ.).

The RPL group would like to welcome our new Research Fellow at UCL-CS, Dr. Kirsty Ellis.

The RPL group would like to welcome our two new PhD students: Denis Hadjivelichkov (CDT FAI) and Luke Beddow (EPRC DTP).

We offer an 1-year PostDoc Research Associate position on: "Perception and Learning for mobile manipulation". Info: here.

Dr. Dimitrios Kanoulas was invited to give a talk at the UCL Centre for Artificial Intelligence on "Robot Perception and Learning for Navigation, Manipulation, and Locomotion". The recorded talk can be found here: Youtube Link

Our ICRA 2020 pitch talk for the virtual conference is out! This nice work is on our state-of-the-art agile legged-wheeled reconfigurable navigation planner applied on the CENTAURO robot! Video: here.

Our IROS'20 workshop proposal, with Joao Bimbo [Yale, USA], Giulia Vezzani [DeepMind, UK], Kensuke Harada [Osaka Univ., Japan] on: "Why Robots fail to grasp? Failure ca(u)ses in Robot Grasping and Manipulation" was accepted! See you physically or virtually in Las Vegas!

Jaydeep Godbole, third-year undergraduate student of the Indian Institute of Technology (IIT) Kharagpur, Department of Electrical Engineering has joined the lab as remote summer internship to work on the controller of the MPPL mobile manipulator.

The first form of our new robot (MPPL: Mobile Platform for Robot Perception and Learning) is ready and running at UCL HereEast.

Dr. Dimitrios Kanoulas joined UCL as Lecturer in Robotics and Computation at the University College London (UCL), Department of Computer Science, Autonomous System Research Group.
---
Made by Dimitrios Kanoulas